Facebook has grown from a social networking site into a potent instrument for people and corporations to make money. It provides a big audience and a wealth of revenue-generating potential with its billions of users globally.
This Blog post will examine profitable Facebook marketing techniques and provide you with practical advice to increase your earning potential.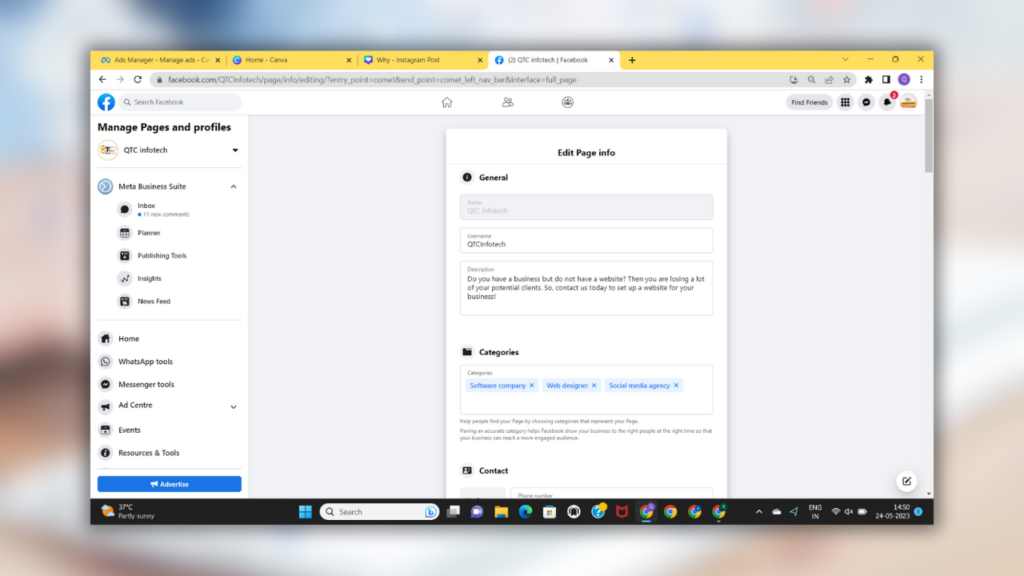 Setting up a Facebook Business Page
You must create a specific Facebook Business Page in order to start making money from Facebook. Your online presence will be built on this page, which will enable you to build your brand, highlight your goods or services, and communicate with your target market successfully.
Creating Engaging Content
For you to draw in and keep your Facebook audience, you must provide compelling and high-quality material. Here are some crucial tactics to take into account:
Utilizing high-quality images and videos
On Facebook, visual material is crucial for grabbing people's attention. Spend money on high-quality pictures and movies that relate to your expertise.
Your information will stand out in consumers' congested news feeds with the aid of compelling pictures.
Writing compelling captions and descriptions
Include thoughtful comments and explanations with your images. To arouse feelings and pique interest, employ narrative tactics. Make sure your captions are succinct, interesting, and consistent with the tone of your brand.
Using hashtags effectively
Do some research and add appropriate hashtags to your postings. Your work can be found by others searching for relevant hashtags. However, use hashtags sparingly and refrain from cramming your descriptions with them.
Growing Your Facebook Page
Focus on expanding the audience for your page if you want to broaden your Facebook reach and interaction. Here are a few sensible tactics:
Encouraging likes follows, and shares
Encourage the people who already follow and like your page to do so. Regularly interact with them to create a sense of community. By producing shareable content that connects with your target audience, you can encourage sharing.
Engaging with your audience through comments and messages
Quickly respond to comments and have deep discussions with your followers. Encourage people to message your page with questions or comments. Loyalty and trust are fostered when you establish a relationship with your audience.
Collaborating with influencers and other pages
Work along with other Facebook pages or influencers that have a similar target demographic. Cross-promotion might assist you in gaining new followers and clients. Seek chances to write as a guest or take part in collaborations.
Monetizing Facebook Videos
Once you have a sizable fan following, you may look at other ways to monetize your Facebook profile. Sponsored postings and brand collaborations are one common way. As your page grows in popularity and interaction, marketers may approach you in return for remuneration to promote their products or services to your audience.
It's critical to preserve your authenticity and only work with businesses that share your beliefs and the interests of your audience. Affiliate marketing is another excellent monetization approach.
You may earn a commission for each sale or recommendation made via your page by becoming an affiliate for relevant items or services. Choose affiliate programs that give high-quality items and reasonable remuneration.
If you have your own items or services, Facebook gives you a platform for you to sell them directly. Use your page's "Shop" or "Services" section to promote and sell your offerings. This helps you to use your current fan base's faith in your brand.
Facebook Groups and Communities
Facebook groups, in addition to Facebook pages, provide another opportunity for monetization. Joining and participating in relevant specialty groups can help you connect with like-minded people and potential consumers.
Participate in these communities as active and useful members by sharing your experience, answering questions, and offering unique insights.
It is important to be discreet and avoid spammy behavior while marketing your products or services within groups. Instead of outright selling, concentrate on developing connections and presenting yourself as a credible authoritative figure.
Gaining the confidence and respect of group members increases the likelihood that they will consider your offerings when the time comes.
Influencer Marketing on Facebook
If you've established yourself as an authority in your field, you may be able to work with businesses as an influencer. Influencer marketing entails pushing businesses or services to your target demographic in exchange for payment.
It is critical for an influencer to retain honesty and authenticity. Only promote items or services that you actually believe in and that are relevant to your followers' interests.
Fair remuneration should be negotiated depending on elements such as your reach, engagement rate, and the degree of effort necessary for the campaign.
Avoiding Common Mistakes and Pitfalls
When attempting to make money on Facebook, it is critical to avoid frequent blunders and hazards. Overposting and bombarding your audience can reduce engagement and even cause followers to unfollow your page. Instead, concentrate on giving value with high-quality material and sticking to a regular publication schedule.
Another blunder to avoid is failing to engage and interact with your audience. Respond quickly to comments, emails, and criticism. Engage with your fans and create a feeling of community around your page.
Conclusion
Earning money on Facebook takes a calculated approach, constant work, and a thorough grasp of your target demographic. You may tap into the enormous income potential of this social media network by developing and optimizing a Facebook page, growing a large follower following, and experimenting with various monetization tactics such as sponsored posts, affiliate marketing, and selling digital items.
Use Facebook groups, the marketplace, advertisements, and influencer marketing to broaden your reach and revenue options.
Analyze insights and analytics to enhance your strategy and performance over time. You may produce a sustainable source of revenue from Facebook by developing a personal brand, avoiding typical pitfalls, and encouraging participation.